Šokių pamokos
Dances for children
up to 18 years old
Choreographer Katerina Sebin
Vaikų diskoteka
Disco for children
6 - 12 years old
Moterų klubas
Women's club
for self-discovery
Leela žaidimas
A transformative
Leela game
Strečingas
Soft stretching
of the body
Inspiration Studio My Soul
"My Soul" is an inspiring studio that serves as a mysterious space for the soul, where people come together to seek balance, inspiration, and meaning in consciousness. This studio offers unique experiences that encourage self-discovery and enhance the quality of life through various aspects of personal activities.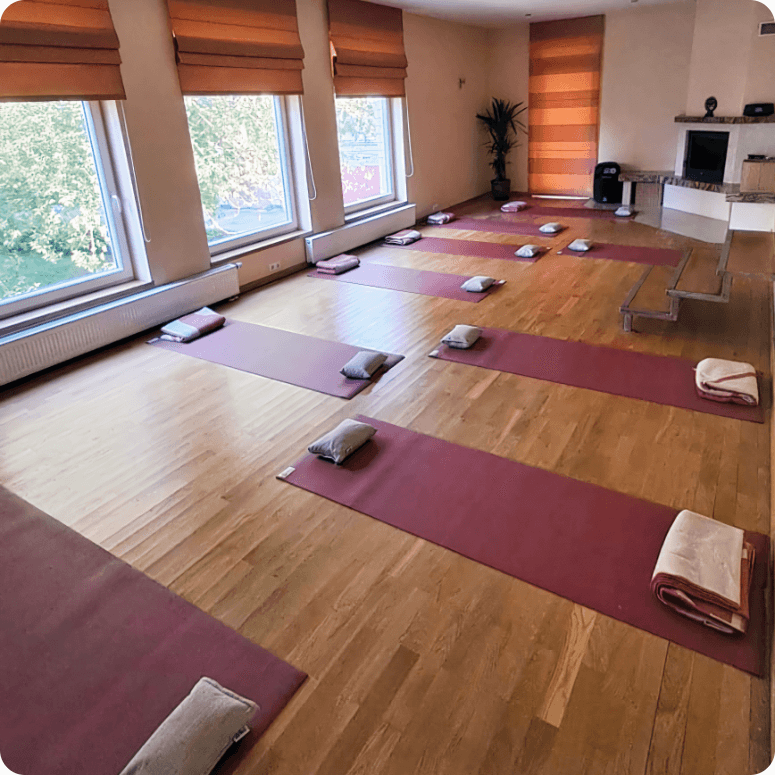 Yoga is one of the main highlights of the studio. Through yoga, people can strengthen their body, improve flexibility, and enhance mindfulness. Accredited yoga instructor Jeet Devi Kaur leads the yoga classes, teaching various yoga styles and methods tailored to different needs and levels.
"My Soul" studio also organizes dance classes for children up to 18 years old, allowing them to express themselves through movement and rhythm. The dance classes are inspiring and energetic sessions that promote a harmonious interaction between the body and mind. Choreography master Katerina Serbin leads the dance classes.
The studio also hosts a Vedic transformative game called "Leela," which engages people in a creative and emotional experience. "Lila" (or Leela) translates from Sanskrit as "The Game." Leela teaches us to view life as a game and embrace each moment with an open heart. It helps us delve into the depths of our wisdom and find answers to various questions.
Tarot readings are another activity offered at "My Soul" studio, where people can consult with a professional tarot reader to gain deeper insights into their life direction, challenges, and possibilities. This activity provides individuals with an opportunity to discover inner peace and follow their intuition.
In our studio, you can also book in-person or remote Reiki sessions. Reiki is an energetic healing method that promotes the flow of energy through hands-on or distance healing, aiming to restore and maintain emotional, physical, and spiritual balance. The Reiki practitioners in the studio provide individual or group sessions that help relax and rejuvenate the body and mind.
"My Soul" studio also organizes women's club meetings where women can share experiences, support each other, and seek strength and inspiration in their everyday lives. The women's club fosters friendship, communication, and collaboration in the pursuit of personal growth and success.
All of these activities promote self-discovery, mindfulness, collaboration, and inspire individuals to grow, strengthen, and discover their unique path in life within the warm and inspiring environment of "My Soul" studio.